by Lisa Furgison McEwen   Is your email list growing? If so, by how much? Research shows that successful marketers see 38% list growth e...
by
Is your email list growing? If so, by how much? Research shows that
successful marketers see 38% list growth every year
, that's about 3.2% each month, according to MarketingSherpa.
To be successful, you have to make continuing efforts to grow your email list. But, with so many marketing tasks, finding time to add contacts isn't always easy.
However, there are a few simple ways to keep subscription rates growing without spending a lot of time recruiting.
Here's a look at four ways to grow your email list, along with a list of tools to make it so easy you can almost "
set it and forget it
."
1. Add a signup form to your website to grow your email list

One of the best ways to entice visitors to join your email list is through signup forms. You've probably seen them on websites before but might not know what they're called. This is a basic sign up form that's on the American Red Cross website:

This small form sits on a website and gives visitors an opportunity to sign up for a company's emails. It has a basic design that explains what subscribers get for signing up and has a spot for visitors to enter their email address.
Sign up forms can be a little more complex, but the overall point of a signup form is to collect email addresses.
The key to creating a successful signup form is to keep it simple. You should only ask for basic information. Research shows
60% of brands only ask for 2-4 pieces of information per form
. In other words, ask for a visitor's name and email address, and maybe one or two additional pieces of information like a hometown or job title.
Tools to create sign up forms

Pinpointe users can create a signup form in a few clicks. Any contacts gained go directly into your Pinpointe account, so you don't have to download any spreadsheets or manually enter email addresses. To
set up a signup form on your website, use these simple instructions
from Pinpointe.
If you're not a Pinpointe customer, there are additional tools you can use to generate a signup form for your site. Here are a few options:
JotForm. Create sign up forms and any other kind of form you can think of including surveys or registration cards for events.
Email Subscribers and Newsletters. If you're a WordPress user, this is a simple plugin with high customer satisfaction ratings that you can use to create an email sign up form.
2. Give pop up messages a chance

Pop ups get a bad rap. Brands are hesitant to use them because they don't want to annoy customers or cause them to leave their site prematurely. It's true if you're bombarding your customers with a ton of pop ups as soon as they arrive on your site, visitors will be annoyed.
However, if you use pop ups correctly, they can give your email list a big boost – and won't bother your visitors. How? It's all about using pop up messages at the right time. Here's when a pop should appear:
Once a visitor has finished reading an article on your website or blog, it's a great time to ask for his or her email address. After reading content, visitors are engaged so a pop up that gives them access to more great content makes sense. It isn't intrusive.
When a visitor is about to leave
You can trigger pop ups to appear when a visitor is about to leave your site. If they are already on their way out, you know you aren't interrupting their site experience. By showing a pop up, visitors can easily sign up for your email list before leaving. Here's an example: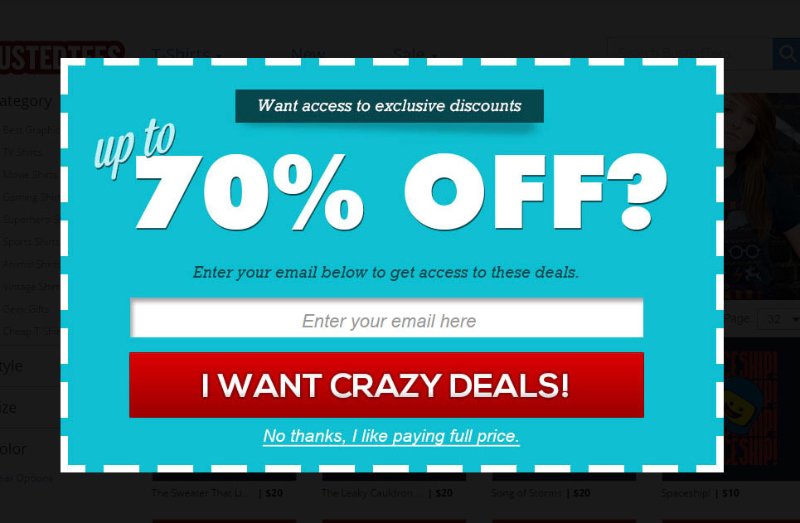 A pop up should also have a clear, short message. Tell subscribers why they should give up their email address, and consider sweetening the deal with a coupon. For instance, "Join our email list and get 10% off your first purchase."
Tools to create pop ups

There are a lot of pop up tools out there. Here are a few you can choose from:
PopUp Domination. This tool is probably the most well-known popup tool. It's easy to use, offers premade templates so you don't need any design or coding skills, and lets you set pop ups to appear when you want.
OptinMonster. Another tried-and-true popup tool, OptinMonster gets a lot of acclaim for letting its users place pop ups in a variety of different places like on the side of a website or at the very bottom.
PopupAlly. WordPress users can check out this plugin that lets you create pop ups for free. Yes, free. It's a good way to see if pop ups are effective for your site before paying to use a premium tool.
3. Put a sticky top bar on your homepage

Turn website visitors into subscribers with a sticky top bar. What's a sticky top bar? Look at the red arrow below. It's pointing to a small blue bar at the top of this website that says, "Free ProBlogging tips delivered to your inbox" and asks for a visitor's email address. That's a sticky top bar.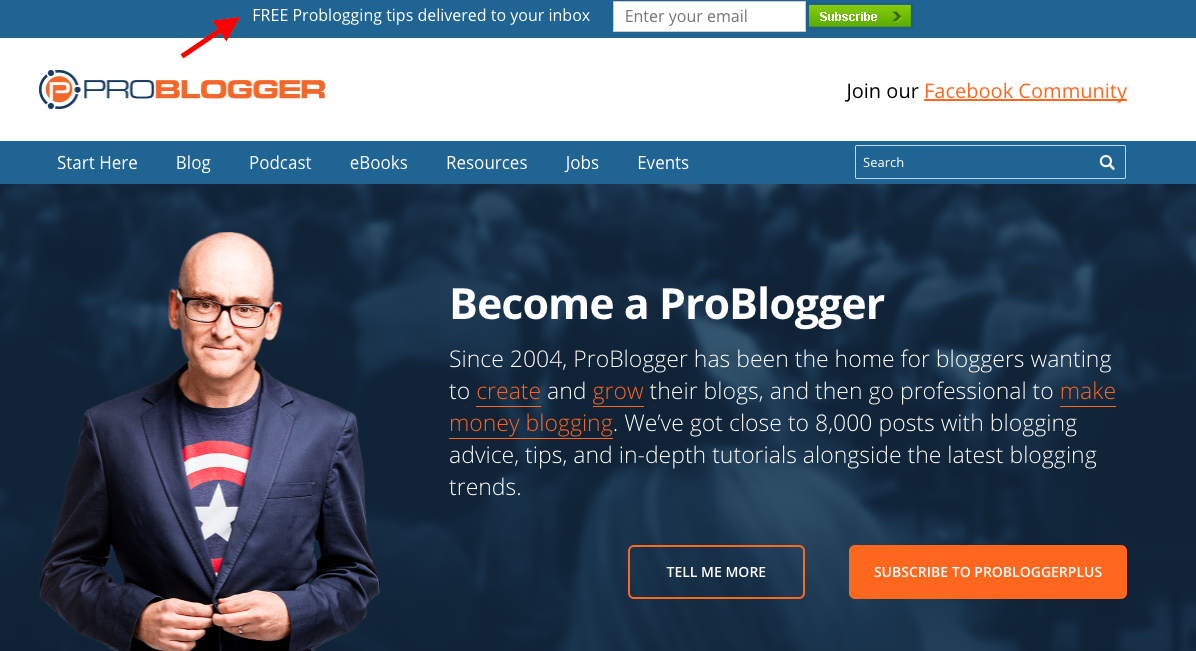 It's "sticky" because it's always there. It doesn't appear when a visitor is about to leave or slide in when a customer makes a purchase. It lives at the top of the page. Period.
Sticky top bars have become quite popular, probably because they're not intrusive and don't take up a lot of space.
To use top bars effectively, you have to create a short message. Space is limited, so you have to choose your words wisely to entice visitors to subscribe. Tell subscribers what they get when they sign up or draw them in with a sweet deal.
You can also create a series of sticky top bars that actually switch while a visitor is on your site. You might have 2-4 different messages on rotation. One might encourage visitors to subscribe to your newsletter, while another asks visitors to sign up for an upcoming webinar.
It's like a mini advertising bar that you can use to promote your business. You can even use the bar to promote a certain part of your website and provide a link to send visitors there.
Tools to create sticky top bars

If you like the idea of a sticky top bar, check out these tools:
Hello Bar. This tool is user-friendly and offers targeting tools so you can decide which visitors see the bar. Different users are exposed to different messages, which can help you provide a more personalized site experience.
WordPress Notification Bar. WordPress users have access to this handy plugin that lets you use the sticky top bar anyway you see fit. Promote a YouTube video, show a countdown timer for a flash sale or collect email addresses.
4. Add a subscriber box to your email signature

Why not add to your email list as you're sending emails? You can use tools to create an email signature that allows people to subscribe to your list. Take a look at the example below:

Think about the number of emails that you send every day. By 2019,
the average person will send and receive 246 emails
, according to estimates from Radicati.
Your personal email list holds a lot of potential. Give the people that you speak with on a regular basis the chance to learn more about your business by adding a subscribe feature to your email signature.
Tools to create an email signature

Email signature tools can turn an ordinary signature into the most eye-catching part of an email. Most tools will incorporate your picture, work phone number, website, social media buttons and an email sign up feature.
Here are several tools you can use to gain subscribers as you create and send emails:
Wise Stamp. The go-to email signature tool is Wise Stamp. This tool offers a newsletter app that lets you create a small line of text to encourage email sign ups.
Exclaimer. This tool gives you a basic email signature – for free. It doesn't have a specific email sign up button but if you have a signup landing page, you can add that URL to your signature. Granted, it's not as recognizable, but if you're looking for a free tool it can work.
Selecting the right tools for the job

While some of the tools we mentioned in this list are free, most come with a monthly fee. Take a look at each tool, weigh the pros and cons and decide whether or not the fee is worth the investment.
Wrap up

Growing your email list is important. Every new contact can turn into a loyal customer, so taking the time to attract new subscribers to your list can have a big return on investment. Use the tools above to keep your list growing without spending a ton of time to increase sign ups.
Source