by Courtney Eckerle   This article was partially informed by The MECLABS Guide for Optimizing Your Webpages and Better Serving Your Cu...
by
This article was partially informed by The MECLABS Guide for Optimizing Your Webpages and Better Serving Your Customers. For more information, you may download
the full, free guide here
.
Email messaging is a constant evolution of tiny tweaks and testing, always in search of the "perfect" formula to keep customers interested and clicking.
The ugly truth is, of course, that there is no perfect email formula. You will always need to test to see what is working — and what will continue to work for your customers.
You always need to be striving towards value. People will open your email and engage with it if they perceive that it will provide some value or service to them.
Marketers and customers shouldn't be opposed — their issues, concerns and needs are yours as well. So it follows that when you focus on customer-centric tactics that put providing value before promoting your own product, engagement is bound to follow.
In fact, according to
a MarketingSherpa online research survey
conducted with 2,400 consumers, "the emails are not relevant to me" was chosen as the second most likely reason that customers would unsubscribe from a company's email list.
This means that relevance and value is more important than ever when planning out your sends, and here are five ideas on how to do it:
Idea #1. Turn your email into a personal note, not a promotion
This is something that all marketers struggle with — we getting tunnel vision, focusing only on meeting certain goals instead of looking at the customer's perspective and needs.
MVMT, a fast-growing watch brand (now full-fledged fashion company), spoke in
a MarketingSherpa case study
about how the company was facing this struggle in its own email marketing. The emails sent out were infrequent, and for the most part, only sent out for promotional purposes.
MVMT had done most of its early growth on social media to great success. Much of the content on the brand's social media channel was conversational and relationship building.
Blake Pinsker, Marketing and Brand Director, MVMT, and his team decided to work from their strength and take a social media approach to the email sphere. They began integrating social media posts into email, and with it, a story-telling approach as opposed to a selling one.

The MVMT demographic is younger and "doesn't want to be sold to," Blake said.
They diversified email campaigns being sent out into product-focused, versus content-focused, and, currently, the "content-focused emails now sell just as well as the product-focused ones," he said.
Idea #2. Personalize subject lines
I recently posted a blog about
three email marketing habits customers were sick of seeing
, and non-relevant, "tricky" subject lines was number one.
It's often said that subject lines have one job — to get a customer to click onto the email. But that's not exactly true. Because you can get the click, but what good is it if you lose the clickthrough because the subject line and the email didn't match up?
If you're following the first idea and your emails are more personal and relevant, your subject lines need to be too. Set up the expectation from the get-go that subscribers are getting a personal, valuable interaction by opening up your emails, and you'll see greater success with your ultimate goal of having subscribers click through.
One of Dale Carnegie's tips for winning friends and influencing people was to "remember that a person's name is to that person the sweetest and most important sound in any language."
Now, you don't have to take that literally and always include the person's name in a subject line, but maybe some fact driven by behavioral data — "We noticed you liked [x product], so you may enjoy this item too!"
Idea #3. Implement personalized send times
Personalization is the big word in marketing these days — if you made a word cloud of MarketingSherpa's most-used terms from the past year, "personalization" and "customer-first" would be the biggest.
So, it makes sense that our biggest key word would collide with our most-asked question — when should I send my emails out?
First of all, always test. Send times are personal to your customers, and they need to be tested so that marketers know when the sweet spot is. If possible, test for different customer personas — for example, one send time might work better for @gmail.com, but perform dismally for @company.com.
Also, for certain types of email campaigns, you may want to implement triggered emails that automatically go out after a customer makes a certain action. That way, it's hitting a specific person's inbox right at the time they need it.
For example, in
Zachys Wine & Liquor's case study
, the marketer described how they implemented triggered emails to help reclaim cart, product and search abandoners.
The emails would reach out to the customer while Zachys was still on their mind, so the first email goes out within an hour of the triggering action.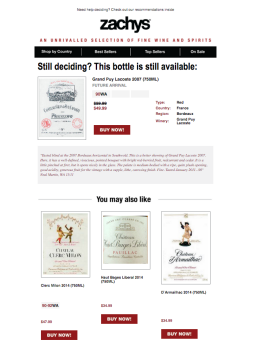 Personalized subject lines, as discussed above, were also a key part of this strategy to reclaim abandoners.
Especially with the product abandonment email, being able to use the product name on the subject line was "a big personalized tease because customers seem to have a really high open rate in that one, because it recognized what they had been looking at not long ago," said Victor Castro, Director of eCommerce, Zachys Wine & Liquor.
Idea #4. Provide personalized content in purchase confirmation emails
Email marketing is vital for
DonorsChoose.Org
, a crowdfunding platform where public school teachers can request supplies they need for their students but don't have the budget for.
"Email is just such a huge driver, such a huge foundation of our business. Our ability to connect to our donors and teachers all happens through email, and … about 25% of the donations we'll get from individuals this year will be in response to emails we send," said Katie Bisbee, Chief Marketing Officer, DonorsChoose.org.
A donor being able to hear directly from the classroom and actually see the supplies being used in action leads to a higher level of trust, and it makes donors more likely to come back and support the classroom again, according to Katie.
That's why in DonorsChoose.org's purchase confirmation emails, or donation confirmation, the team provides personalized information based on the classroom and project that the donor contributed to. Also, the donor may receive information on another project that is similar to the one that they gave to.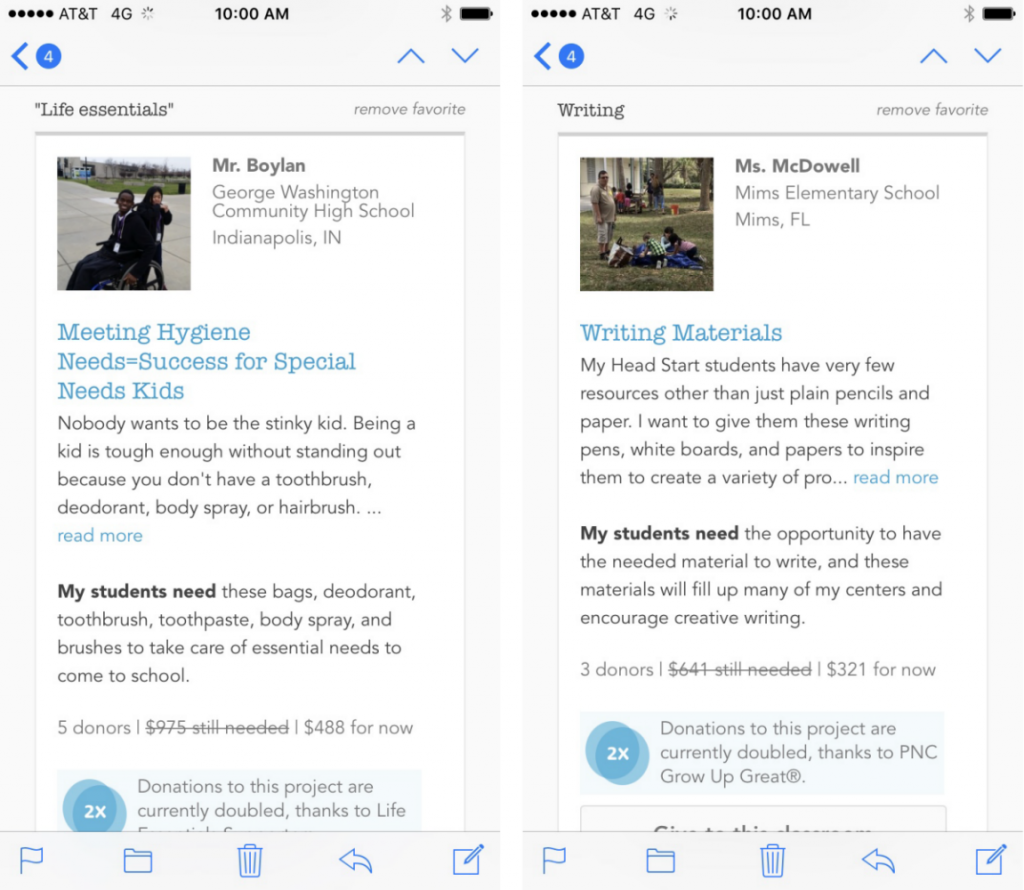 Every month, the team sends an email that recommends classroom projects that they believe a donor will care about, based on giving history. For example, if someone had given to that teacher before or made a donation to a similar project in the same area.
Idea #5. Write copy that connects to a customer problem
This is a tried-and-true, easy way to create real customer value. Start mining different team members, especially on customer support teams, for information on what customers are asking or searching for.
If you understand what they are struggling with, or need to know, you can easily fill that gap with email content.
In
its case study, The Entertainer Toy Shop
displayed an understanding of the relationship between solving problems and value in email marketing, and the team used it to optimize and capitalize on the busiest times of the year — birthdays and Christmas.
For instance, the company utilized data — like when a child's birthday was and if the child was a boy or girl — to help adults avoid the issue of a last-minute rush to get a present.
The team would send out an email four weeks ahead of the birthday, with three emails sent running right up until the child's birthday. The email content includes suggested presents based on what has been recently popular with either boys or girls of a similar age.
People who are in The Entertainer's database spend twice as much every year as someone who isn't in it, according to Rob Wood, Head of Online and Digital, The Entertainer.
The emails also highlight a value of the brand, which is the ability to purchase online, and then pick up the present in-store.
Source